I write a lot of letters. Yeah you know, those things you write on paper and that are physically sent to the recipient? With pens? Ah, now you're with me.
Okay so anyway, because of this, I've joined a community called LEP, or The League of Extraordinary Penpals. I joined in on this right at the start, and it is awesome. There are so many great people there, most of them acting as enablers for all my hobbies and inspiration but I'm not complaining (much) ;)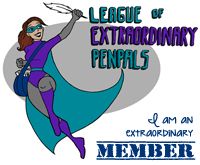 In the LEP Facebook group we were talking about handwriting, and as I uploaded a sample there, I thought I'd show you too. My handwriting is usually a little bit neater when I write to someone, but I have a horrible wound on my thumb so I couldn't be bothered to make an effort because it hurts.
Also pictures of how I hold my pen when writing, because I know I hold it unusually close to the nib. I always have, because I feel like I don't get proper balance and control over my writing if I hold it further up. If anyone has tips on how to get used to writing while holding the pen like a normal person, I'd appreciate it. While holding pens close to the tip is not a problem with normal ballpoints, it does present a bit of an issue when writing with fountain pens (which I usually do), because touching anything on or under the nib will pull all the ink out of the pen and onto your fingers. Such a mess!